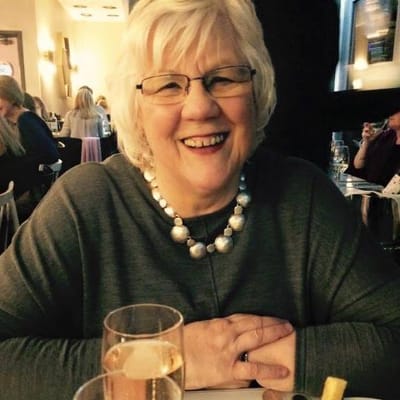 In 2004 I moved to a village outside York and immediately became involved with the art group. My interest in art became rekindled and I started to paint flowers because they were readily available Later I progressed to trees in my garden and around that time I discovered gouache which suited my graphic style. This lovely creamy paint is rich and perfect for blocks of colour. Over the years I have worked in various mediums and enjoyed mixed media and printing, but I always return to gouache.

For 3 years I was absorbed by the beautiful shapes of cobles and the fishing paraphenalia on the east coast of Yorkshire. These interesting themes were worked in gouache, acrylics, mixed media and monoprints.
The natural world always inspires me and I have enjoyed working with poppy seed heads, full blown poppies and grasses.

In 2019 I embarked on a project looking at rocky landscapes, mainly in Yorkshire. These were worked in a limited colour palette in acryl gouache and in a graphic style.

I have exhibited and sold my work widely and I am now chairman of the annual Poppleton Artists Exhibition. Other exhibitions have been staged at York Art Society, Bridlington Artwaves and I have participated in York Open Studios 4 times. In February 2021 there will be a solo exhibition of my work at Helmsley Arts Centre.


JAN 2021 MY EXHIBITION AT HELMSLEY ARTS CENTRE HAS BEEN POSTPONED DUE TO THE PANDEMIC.

I am delighted to announce that Helmsley Arts Centre have rescheduled my solo exhibition.for September and October 2021.
It will open on Wednesday 1st October and close on 31st October.
Hope to see you there. I will be in attendance every Sunday.